Machine Description:
Centerlab CTM series are designed for fast and accurate ionic contamination testing, Offers a full range of capacity and control to meet the needs of any lab or manufacturer..
Machine Feature:
1.Provide an accurate, repeatable, rapid method for ionic contamination testing.
2.Determine the Cleanliness of bare boards, assemblies with SMT devices, electronic Components and other assembled printed circuits.
3.Comply with current industrial specifications such as IPC-TM-650, MIL-STD-2000A, MIL-P-28809, DEF-STD-10/03, IEC…
4.Test tank specially designed for complete ionic contamination extraction.
5.Test tank changeable, tank can be mad on customer's request.
6.More reasonable control mechanism to ensure accurate test.
7.Combine perfectly Dynamic/Static test method in one equipment.
8.Easy-use Software, friendly interface, English/Chinese language.
Test Software:Power CTM
1.Windows work environment(windows7, window xp, etc)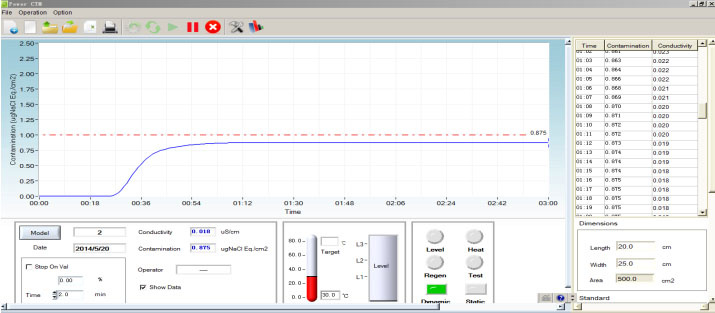 2.English/Chinese interface.
3.USB communication port.
4.Word or PDF report form.
5.Metric(cm)/British (inch) system.
6.Simple parameters set-up.
7.Chart, data, status on one screen.
Machine Spec:
Model No.

CTM-100

CTM-500D

CTM-500S

CTM-500DS

Test Method

Static

Dynamic

Static

Dynamic/Static

Level Adjustmet

N/A

Y

Y

Y

Sensitivity

0.001uS/cm

0.001uS/cm

0.001uS/cm

0.001uS/cm

Solution Capacity(L)

10

15

15

15

Tank Size(mm)

380 x 300x 50
(customizable)

500 x 500 x 45
(customizable)

500 x 500 x 45
(customizable)

500 x 500 x 45
(customizable)

Sample Size(mm)

350 x 280 x 50
(customizable)

480 x 400 x 45
(customizable)

480 x 400 x 45
(customizable)

480 x 400 x 45
(customizable)

(Overall Size)
(mm)(L x W x H)

500x 320 x 550

890 x 430 x 1090

890 x 430 x 1090

890 x 430 x 1090

Heater

N/A

Y

Y

Y

Max Operating Temp(℃)

N/A

45

45

45

Weight (Kg)

42

82

78

85

Power Requirements

220V AC, 50Hz, 1A

220V AC, 50Hz, 1A

220V AC, 50Hz, 4A

220V AC, 50Hz, 4A